Join Us Later This Year at Kickball Without Borders!
Every year, the Puget Sound Professionals chapter hosts its annual Kickball Without Borders event.
This event is filled with participants from prominent engineering and construction firms in the greater Seattle area who seek to support our chapter by organizing teams to compete.
Collectively, these players duke it out on the field to determine who will take home the coveted KWB trophy.
The event is usually held in September at the baseball fields in Lower Woodland Park.
Food and drink, including beer on draft and other alcoholic beverages (yes, you read that right!), are available at the event for purchase, as are raffle tickets to be drawn later in the day for some exciting prizes.
All proceeds raised from the event go directly towards sustainable engineering projects to assist our international partner communities in Nicaragua, Uganda and Sierra Leone.
If you are interested in having fun and contributing to a worthy cause, we at the Puget Sound Professionals chapter of EWB invite you to consider organizing a team for your company at our next annual event!
Contact president@ewbseattle.org for more information on opportunities for participation and sponsorship.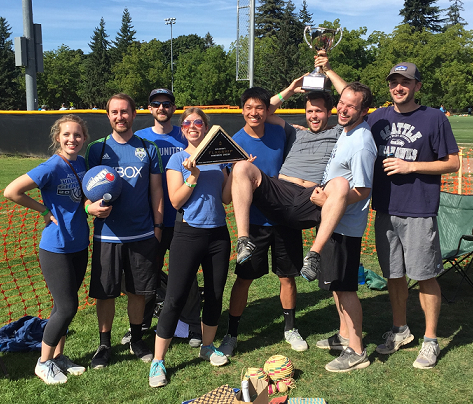 2018 Kickball Without Borders Event Sponsors
We would like to thank the following organizations for sponsoring our 2018 Kickball fundraiser!